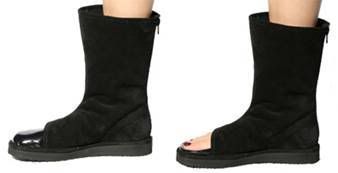 There is a huge debate broiling in the comments section of People Magazine's style blog, Off the Rack, concerning the footwear pictured at left.

These are Bootie Pies. They're designed for winter pedicures, as an alternative to flip flops. You get your feet buffed and prepped at the salon, then slip them into the booties before the polishing phase. The patent leather flap gets pressed down, keeping your piggies exposed for smudge-free drying.

At $128 these suede Bootie Pies are certainly not an inexpensive solution, but might work for you if you live in the city and can't just sprint to the car post-pedi. For me, I probably won't be needing them, as I try to do my pedis at home during the colder months.

Their very presence on Off The Rack, though, has kicked off a vicious debate in the comments, with readers mouthing off on the boots...and each other. Some think they're overpriced, useless, ugly trash; others can't live without 'em.

The comments are a must-read. Click here to check out the entry.

What do you think of Bootie Pies? Innovative and convenient, or just gimmicky?